Volati was founded by Karl Perlhagen and Patrik Wahlén in 2003 with the business concept of acquiring companies with proven business models, leading market positions and strong cash flows at reasonable valuations, and developing these with an emphasis on long-term value creation.
Volati has since grown substantially both organically and through the acquisitions that have been completed since 2004. Today, Volati is an industrial group organised in three business areas: Salix Group, Industry and Ettiketto Group.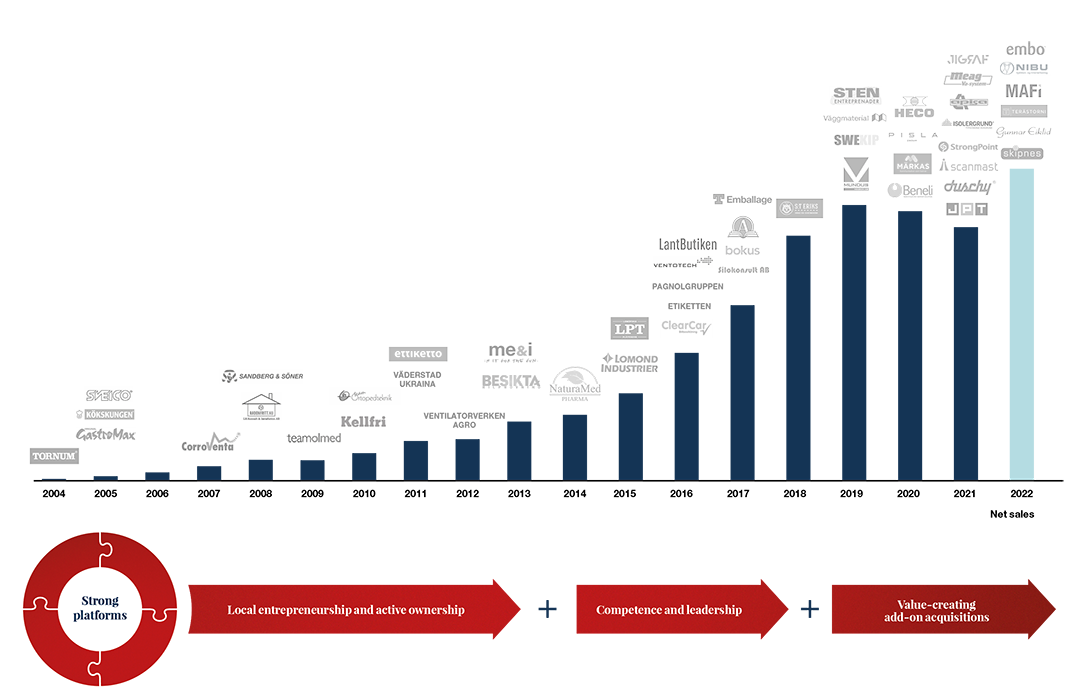 Volati has grown into a company worth billions - this is how
2022
Six acquisitions carried out: Skipnes AS, Gunnar Eikild AS, Terästorni OY, Mafi Group AB, Norholding Invest AS and Embo Import AB.
Ettiketto Group becomes and independent business area within Volati. As a consequence, Volatis goes from two business areas to three; Salix Group, Industry och Ettiketto Group.
The turnover reaches 7 000 MSEK.
2021
Eight acquisitions carried out: JPT Industria, Duschprodukter Sweden, Scanmast, StrongPoint Label, Byggsystem Direkt, Apisa, Meag VA-system and Jigraf AB.
A spin-off of Bokusgruppen was made and Volati goes from three to two business areas.
Emphasis placed on continued growth through acquisitions and development of Salix Group and Industry, two fast-growing business areas.
2020
Completes four acquisitions; Heco Nordiska, Beneli AB, Pisla OY and Märkas AB. Divests Besikta Bilprovning and NaturaMed Pharma.
Divests business area Consumer and Volati goes from four to three business areas.
2019
Completes four acquisitions; Stenentreprenader, Mundus Maskin, Väggmaterial and Swekip. Divests me&i.
2018
Completes one acquisition; S:t Eriks, a leading manufacturer of concrete and natural stone products.
The turnover reaches 6000 MSEK.
2017
Completes three acquisitions; Akademibokhandeln, which forms a separate business area, Silokonsult Göran Persson AB, an add-on acquisition to Tornum's operations in the Industry Business Area and T-Emballage, which  becomes a business unit within the Trading Business Area.
The turnover reaches 4000 MSEK.
2016
The common stock is listed on Nasdaq Stockholm
Four add-on acquisitions completed: Ventotech, ClearCar, Pagnol Gruppen AB and Lantbutiken.
Operations organised into three business areas — Trading, Consumer and Industry.
The turnover reaches 3000 MSEK.
2015
Issuing of preference shares, listing on the Nasdaq First North.
Acquires Lomond Industrier, a supplier for the Nordic hardware and home improvement markets.
The turnover reaches 2000 MSEK.
Sells Sandberg&Söner
2014
Acquisition of NaturaMed, a company that focuses on the sale of dietary supplements, plant-based remedies and health products.
2013
Reaches 1000 employees.
Buys Besikta Bilprovning, car inspection stations.
Acquires me&I, a company which designs and manufactures clothing for children and their mothers.
Volatis turnover reaches 1500 MSEK.
2011
Purchases Kellfri, a low-cost stakeholder which designed and sold machinery, tractors and accessories for agricultural and forestry use.
Volati reaches a turnover of 1000 MSEK.
Volati reaches 500 employees.
Acquires the printing company Ettikettoprintcom.
2010
Acquires Team Ortopedteknik, a company that adapted orthopaedic aids.
2009
Buys Olmed Ortopediska, a company that adapted orthopaedic aids.
2008
Acquires the lego manufacturer Sandberg&Söner.
The turnover reaches 500 MSEK.
2007
Purchases the dehumidification company Corroventa.
2006
Reaches 100 employees.
2005
Acquisitions of Sveico and Kökskungen, two companies active within the household utensil segment.
2004
Volati acquires Tornum, Sweden's leading grain dryer manufacturer.
The turnover reaches 100 MSEK.