Value-creating business model
Volati creates value by acquiring and developing strong platforms. By working actively to develop companies in a sustainable and long-term perspective, Volati creates favourable conditions for organic growth.
---
Our business model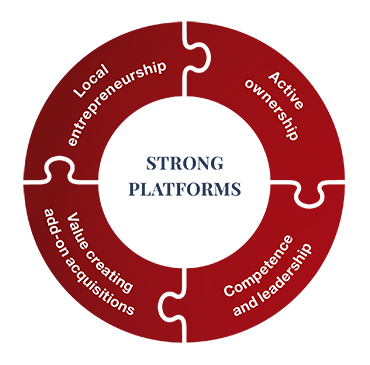 Our acquisition model is primarily based on four building blocks: Local entrepreneurship, Active ownership, Talent and leadership and Value creating add-on acquisitions. Through the four parts of our business model, we ensure that we act responsibly as owners and add value to our business units. This supports their successful development and helps Volati achieve strong, long-term value creation.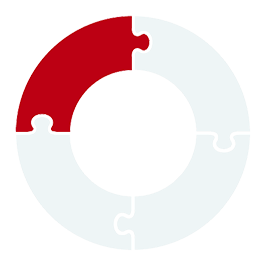 Local entrepreneurship
The business units' managements and employees are the real heroes at Volati. We believe in entrepreneurship and are convinced that the best business decisions are taken near customers and markets. This is why we apply a decentralised governance model that preserves the business units' independence and local entrepreneurship. This means that we apply owner control through the boards of our business units, and that the CEOs of our companies have full ownership of their activities. We also offer selected key individuals part ownership of their business units. This gives them the same incentive as Volati to develop their business units and ensures that our goals coincide.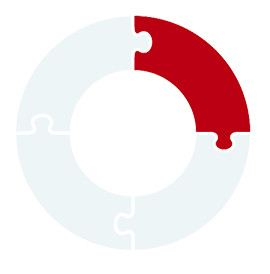 Active ownership
Volati is a responsible, active owner. We monitor our business units' development at close range to ensure they have optimal conditions for developing greater value. We take clear responsibility for aspects such as the appointment of board members and company managers, strategic direction, capital allocation, sustainability efforts and guidelines and policies. For the individual businesses, this means support with clear strategy-management, which creates added value for them.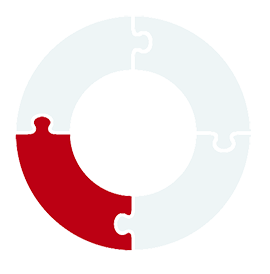 Value creating add-on acquisitions
Volati aims to create strong platforms for continued growth and long-term value creation. As part of this aim, we focus strongly on add-on acquisitions for existing business units. These acquisitions strengthen the business units' market positions and accelerate their growth rate and development in accordance with their strategies. In other words, add-on acquisitions generate considerably more value for Volati than simply acquiring individual companies.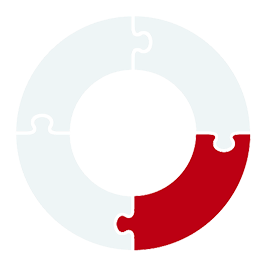 Competence and leadership
We have a stated ambition to add value to our business areas in order to ensure strong returns over time. To be able to do that, we need to give our management teams the best possible conditions for developing their business units. Volati has a clear strategy for management and skills supply. We make extensive investments to ensure that our business units always have access to the right expertise, both at management level and in key positions, and that these persons are continuously developed and supported to reach their full potential. Through these efforts, we ensure that the business units have industry-leading expertise at all levels.
---
Related
---